In these years I have made a lot of photos for works and hobby.
I have started with my first digital camera, an Apple QuickTake 200, then I am passed to a Nikon CoolPix 880 with wide angle optic and then a Canon PowerShot Pro 1 and a Canon EOS 400D and an other reflex Canon EOS 500D with several lens such as a Canon EF 28-135/3,5-5,6 USM IS and a Canon EF-S 60/2,8 USM specific for the macro photography, a Canon EF-S 10-22 mm wide-angle for architectural photographs and a Canon EF 70-200/4 series L.
Here some of my photos (all rights reserved):
If you wish to see only the last photos that I have uploaded of the site please click here.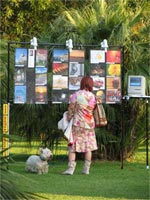 The 11 June 2005 I have participated to Nottart 2 exposing some of my photos. Visit the page of the event.